Sales
Go beyond sales force automation with Dynamics 365 Sales to better understand customer needs, engage more effectively, and win more deals.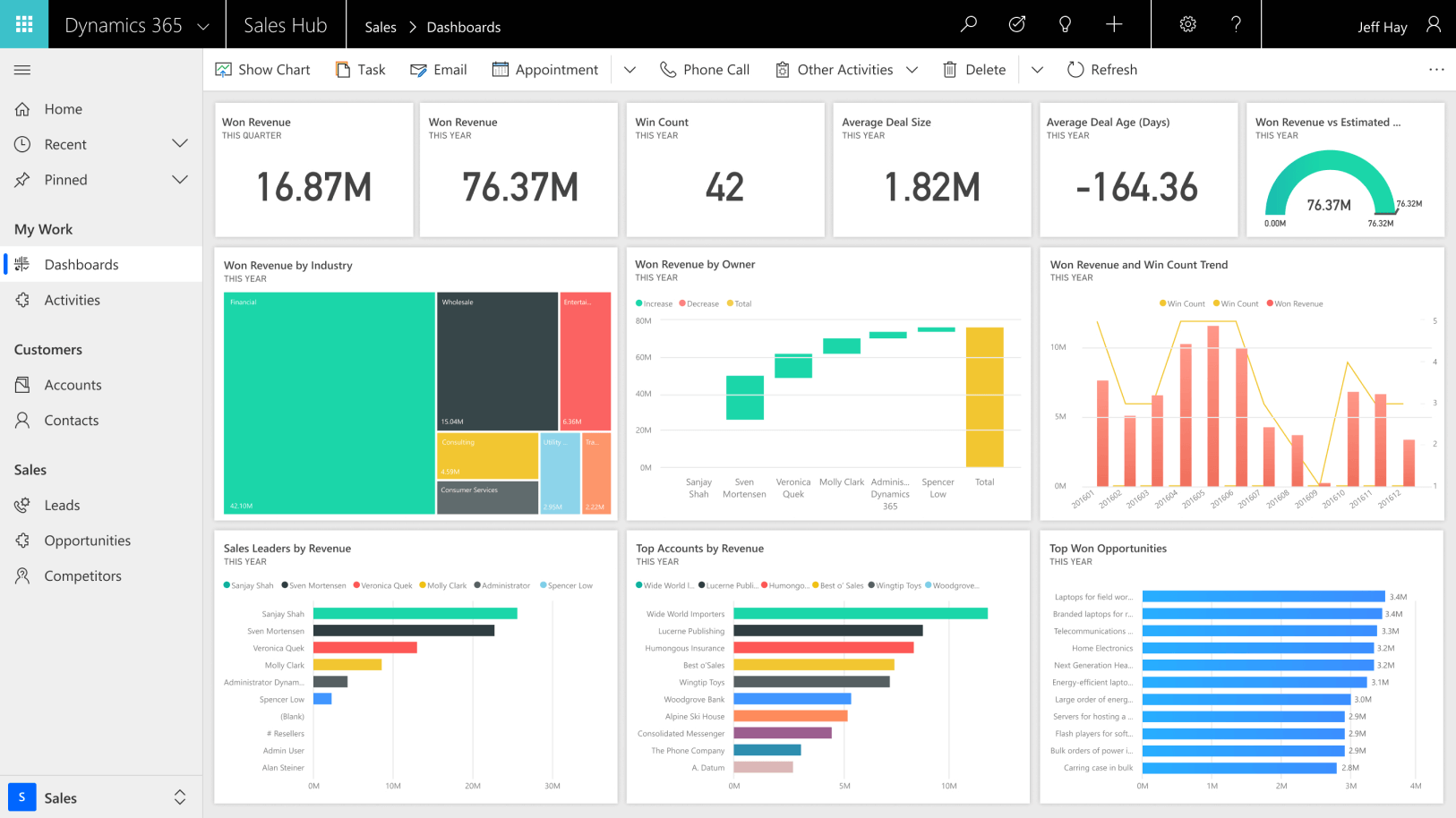 Turn relationships into revenue

Enable smarter selling with contextual AI
Focus on the right customers, build trusted relationships, and take swift action with a solution that unifies relationship data and provides contextual AI-driven insights.

Empower sellers to build relationships
Keep the focus on relationships with unified sales solutions and data across LinkedIn Sales Navigator and Dynamics 365 Sales.

Boost sales productivity with seamless tools
Free up more time for selling with a streamlined sales process that's supported by familiar and cohesive tools and intelligent optimization.

Improve coaching and sales performance
Effectively coach sellers with data-driven feedback and make decisions based on real-time data and emerging trends. Drive revenue with pipeline analysis, deal insights, relationship analytics, and conversation intelligence.

Increase sales profitably with advanced insights
Identify and replicate successful sales calls with conversation intelligence and help sales teams sell smarter with contextual AI-driven insights.
Innovate with sales solutions built to evolve
Drive innovation with adaptable and scalable sales solutions that are easy to tailor, extend, and connect to other applications and services you already use.
Customer Service
Build brand affinity and customer loyalty with Dynamics 365 Customer Service. Empower your teams with the streamlined data and unified technology they need to deliver seamless, personalized experiences.
Earn customers for life
Personalize service
Deliver the tailored service customers expect across channels with AI-enabled experiences and insights to proactively resolve problems and ensure peace of mind.
Empower teams
Give your teams the right tools to intelligently handle routine requests and resolve more complex issues.

Unify technology
Simplify agent and customer experiences through one complete source of customer data using a single, extensible platform.
Field Service
Deliver exceptional customer experiences using Dynamics 365 Field Service to dispatch the right resource at the right time to the right place—with all the tools to succeed the first time.
Resolve service issues the first time, every time

Deliver service proactively
Predict, detect, and resolve field service issues before your customers even know there's a problem, ensuring consistent and dependable operations.
Schedule resources intelligently
Dispatch technicians when and where they're needed most, delivering exceptional on-site customer experiences while optimizing your resources and costs.
Fix issues successfully
Ensure your technicians have the time, tools, and information they need to resolve problems the first time, building customer trust and loyalty.
Marketing
Increase customer demand for your products and services, create seamless customer experiences, and improve marketing results with Dynamics 365 Marketing.s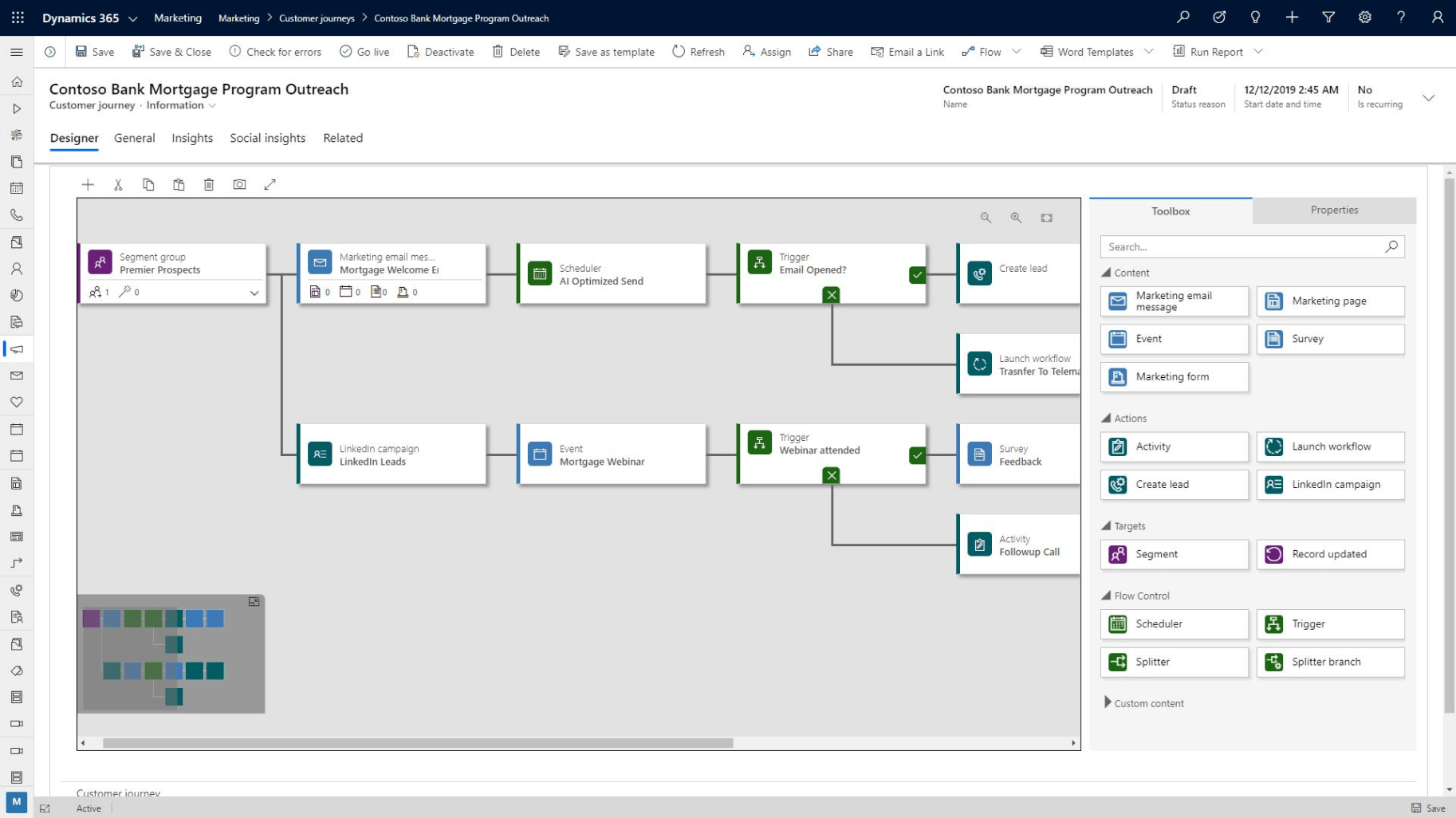 Turn prospects into business relationships

Create and nurture leads
Run targeted, multi-channel campaigns and personalize each buyer's journey to generate more sales-ready leads.

Align sales and marketing
Create seamless customer experiences through marketing automation, shared data, and processes connected to

Make informed decisions
Improve automated marketing performance with AI-driven insights, lead scoring, and custom dashboards, plus gain a 360-degree view of customers through integration with Dynamics 365 Customer Insights.
Grow with an adaptable platform
Personalize and extend the capabilities of your app by connecting it with the apps and services you already use, plus use built-in privacy features to help you comply with GDPR regulations.
Project Service Automation
Build trusted customer relationships by delivering outstanding project experiences. Dynamics 365 Project Service Automation empowers you to deliver profitable projects on time and within budget while increasing employee productivity.
Profit from your projects
Manage projects with confidence
Plan and deliver successful projects using a predictable and customer-centric service delivery model.

Optimize your resources
Anticipate resource demand and ensure the right resources are on the right projects, keeping utilization high.
Forecast project profitability
Prioritize project-based sales opportunities with built-in intelligence to plan for successful outcomes.
Increase productivity
Empower your service professionals to deliver their best work through intuitive and collaborative tools.

Innovate with a modern and adaptable platform
Drive innovation with an application that's easy to tailor, extend, and connect to other apps and services you already use.